Rep. Thompson Passes Critical Legislation to Help Support Veterans and their Families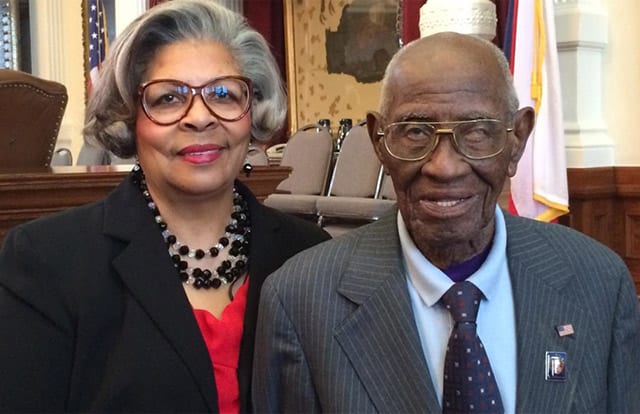 September 1st of this month, hundreds of new laws passed by the Legislature this year went into effect. I am proud of all the work that I did this past session from helping victims of sexual assault and trafficking to the elderly. However, I am especially proud of the work I did on House Bill 3404 which requires the Health and Human Services Commission to conduct a study on providing comprehensive trauma and PTSD assessment, and targeted treatment for veterans AND their families.
In working on this issue it was a surprise to me to find out that Houston and the surrounding area is the largest catchment area for active-duty military and returning Veterans in the U.S. Specifically, Houston and the surrounding five counties are home to 370,000 Veterans, of whom 22,000 were deployed in the conflicts in Iraq and/or Afghanistan. The state of Texas is home to 25% of all Veterans nationwide. What we do here, may very well shape how our nation addresses the much needed care for our Veterans.
Because of this, I wanted to make sure that this study focused on getting services, care, and treatment directly to the Veterans and their families. Providing these individuals with integrated care to ensure a comprehensive continuum of care exists for them from beginning to end.
It is my hope that through this study we will be able to find out what type of treatment, care and services a particular Veteran may need and get them that much needed help directly. I do not believe that a singular model properly addresses the needs of all our Veterans because those needs will undoubtedly be distinct and require a targeted assessment. We need to be able to pinpoint effective treatment and evaluate the benefits and results of those treatments for our Veterans, but most importantly for their families as well.
In addition to my own work, a number of other bills were passed by the House this session that may of interest: (http://joestraus.org/2015/09/newsletter-supporting-our-veterans/)
Providing preventative and mental health services. House Bill 19 established a preventive services pilot program to serve Veterans and military families. In addition, Senate Bill 55 creates a grant program to support community mental health services for Veterans and their families.
Establishing a Texas Women Veterans Program. House Bill 897 sets up the Women Veteran Program in order to help navigate some of the unique challenges that women face as they transition from military service back to their families and the workplace. More female Veterans live here in Bexar County than in any other county in the state.
Reducing the tax burden on those who served and their families. Senate Bill 1049 provides an exemption from the franchise tax and some filing fees for businesses owned by Veterans during an initial period of operation. The House also passed a proposed constitutional amendment making it easier for the surviving spouse of a totally disabled Veteran to access a property-tax exemption. This proposed amendment will be on the ballot for voter approval this November.
Helping Veterans transition into the workplace. Senate Bill 807 directs state agencies that issue occupational licenses to waive application and examination fees for qualifying service members, Veterans and military spouses.
Supporting military and defense communities. The Legislature allotted $30 million for Governor Abbott's Defense Economic Adjustment Assistance Grant Program, which helps defense communities that have been positively or negatively impacted by a change in defense contracts. Funding can also be used proactively to support installations in the event of a change or announced change by the Department of Defense.
I promise to remain committed to supporting our Veterans. To those who have served this nation bravely and to those who are still serving today, I thank you. Your contribution to our state and this nation will not be forgotten and are deeply appreciated.
Reference:
Texas Legislature Online
UTHealth
Photo:
State Representative Senfronia Thompson with World War II Veteran Richard Overton.